Matahiwi Estate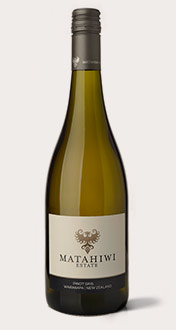 Matahiwi Estate Pinot Gris 2018
With this wine, we are trying to achieve a more Alsace style of Pinot Gris that is richer and more complex. A portion has therefore been barrel fermented to develop texture and complexity in the final wine. The palate displays aromas of pear, nectarine and toasted almonds leading to a lingering dry finish. This wine is best enjoyed in its youth but will further develop over the next 4 years.
Vineyard
Fruit for this Pinot Gris is from our vineyard in the northern Wairarapa and a blend of two different clones. Young vines with a small crop that reached very good ripeness in a long season and a cooler summer followed by a warm dry autumn.
Winemaking
To develop some richness and creaminess in this wine, we have barrel-fermented 30% of the blend in old barrels. We have also used a variety of yeasts (including some wild ferments) in these barrels to build complexity in the wine. Of the tank-fermented portion, we have used an aromatic yeast to capture that fresh varietal character of Pinot Gris.
Shopping Cart
Your shopping cart is empty